Our Pilates instructor courses take students from Pilates basics to the Pilates Master Instructor level.
In our basic courses (Pilates Principles, Pilates Level I) we focus on the principles and original Pilates exercises created by Joseph H. Pilates, along with correct breathing techniques, classroom management techniques, basic anatomy studies, and business and marketing studies.
Our graduated students will have confidence and professional knowledge to become successful Pilates instructors and teach the Pilates method all over in the world.
To further their professional development, we also offer a range of Pilates-based teacher training programs, such as Pilates Level II Instructor, Fit Ball - Soft Ball Pilates Instructor, Pre-Postnatal Pilates Instructor, Children's Pilates Instructor, Senior Pilates Instructor.
Our unique courses are the Powerbox Pilates instructor, Spine Balance instructor and Stretching instructor.
POWERBOX PILATES is accredited by the Body 'n' Soul Wellness Academy and our Academy is the only one who has got rights to teach the Powerbox Pilates Instructor certification program.
The Powerbox Pilates instructor course not only provides our students the professional education but the course's price includes the Powerbox Pilates Basic equipment as well.
The highest level is our Pilates Master Teacher program, which consists of 6 levels and 300 practical and theoretical hours. At the end of the Master Teacher program our graduates will receive their Pilates Master teacher certification along with 6 Pilates certifications.
In all of our Pilates certification courses we provide a high level of professional education, as well as the business and marketing knowledge that will help our graduates succeed professionally.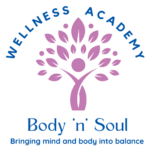 Body 'n' Soul Wellness Academy © 2023. All rights reserved