Mission statement of the Body´n´Soul Wellness Academy
Body´n´Soul Wellness Academy goals are to bring the various aspects of holistic health to people through its educational activities. Body'n'Soul considers balanced nutrition, functional movement, and holistic lifestyle as the main tools for health promotion.
Our mission is to provide trainings and professional qualifications that incorporate scientific principles and holistic health care. Restoring balance to the triadic unity of body, mind and spirit is paramount in our courses. Yoga, Pilates, Plant-Based Nutrition and especially our Holistic Health Coach courses follow the holistic concept of considering all elements of the human being (physical, mental and spiritual) to promote optimal health and well-being.
Within our courses, our main goal is to provide our students with the highest level of theoretical and practical knowledge based on scientific principles, enhanced by our team of qualified instructors. Our instructors are all qualified professionals who are committed to help for our students to improve their theoretical and practical knowledge.
We place a strong emphasis on the knowledge and professional well-being of our graduates. Our Academy provides internationally recognized certifications, and we also provide additional professional mentoring to help our graduates become as successful as possible in their careers, whether at home or abroad.
MISSION OF THE PILATES DEPARTMENT
The mission of the Pilates department is to provide an outstanding, educational training experience that encourages individuals to incorporate the Pilates method into their daily lifestyle.
Body 'n' Soul Wellness Academy's Pilates Department set standards for professional competency necessary to teach the Pilates method safely and effectively to everybody.
Our goal is to teach and guide our students from the beginner level to the Master Teacher level. Our students learn not only how to perform and teach the exercises, but also how to heal their clients with the knowledge they have gained.
Our courses are designed for those who would like to work as highly qualified Pilates instructors, build a successful career and change the quality of their lives and the lives of their clients.
In our Pilates training courses, we explain the exercises to our students, from posture to correct execution of the exercise sequences and professional facilitation. We will raise their knowledge to a level where they will be able to fundamentally change the physical and mental state of their guests.
With our hybrid system, we teach offline and online courses, our certification programs are unlike any other course in the world. We teach our students more than just exercises. They will learn how to teach a Pilates class, how to cue, how to program flowing classes, how to find their unique voices as instructors and how to start their Pilates teacher carriers.
We also teach marketing and business studies, which will help them to take their career to the next level.
With our unique and patented Pilates equipment, Powerbox Pilates, our students will be able to start a successful Pilates carrier immediately after the Powerbox Pilates course.
We developed a Partner program for our Body 'n' Soul Master teachers. They will have a chance to work together with the Body 'n' Soul as our Partners and earn extra income with the B'n'S and Powebox Pilates.
"Teaching Pilates is not just about teaching the right class and breathing correctly. An excellent Pilates instructor is able to introduce and teach their clients to live a happier, healthier, and more fulfilling life through a specialized Pilates program."
Marianna Jackson, Pilates Master Teacher, owner of the Body 'n' Soul Wellness Academy
Mission of the Yoga department
The Yoga Department of the Body ´n Soul Wellness Academy brings the thousands of years of yoga science to the people, adapted to their modern lifestyle.
The complex tools of yoga are designed to support a fulfilled life, looking at the human body-mind-spirit unit, in perfect harmony with the goals of B´n´S.
The mission of the yoga department is to create health awareness with the help of yoga and to provide Holistic Health to the humanity all over the world.
Our yoga courses draw from the full range of yoga theory and practice. Our instructors are fully trained to guide their students on the path of yoga with confidence.
For many people, yoga is just exercise, but the execution of postures is only one facet of the science of yoga. The philosophical background of yoga provides us with life guidance, and advice that is backed up by modern research. We also learn about principles that guide our avoidance and recommended behavior and attitudes. These ancient suggestions highlight the importance of doing no harm, the importance of speaking our truth and the need to develop self-awareness, which are also in line with the modern world's suggestions for health promotion and a fulfilling life.
We hope and wish to contribute to raising the quality of life of our students and the people who visit them.
The asanas help us to maintain our health, improve our body awareness, coordination, physical condition and endurance. Breathing exercises are physically cleansing for the body, mentally relieving tension and freeing us from mental stress. Concentration exercises can help us to maintain our focus and thus achieve our goals more confidently. Meditation supports clarity of vision, the recognition of true values and the clear formulation of our goals. It helps us to discover inner values in ourselves and in others. The energetic teachings of yoga can also shed light on the hidden causes of an unhinged situation, giving us a complex picture of the human being that helps us to see the deeper connections.
All these beneficial effects are reflected in our training courses. Our aim is to impart a knowledge that, although rooted in ancient teachings, can guide us in our modern daily lives.
Our yoga teacher training courses professionally prepare students who come to us to be ready to fully welcome their students as classroom teachers and to support their guests beyond the yoga room with the knowledge and experience they share.
Mission of the Health & Nutrition department
The mission of the Health & Nutrition Department is to provide science-based knowledge, healthcare methods and the practical implications of nutritional theories.
The courses of Health & Nutrition Department aim to provide knowledge that will help future nutritionists and health coaches understand the physiological processes of the human body and functioning of organ systems. The Holistic Health Coach and Nutritionist courses equip our graduates with the functional tools to identify and understand the cause-and-effect relationship between the body's dysfunctions and the body's functions. Based on these findings, our professionals will be able to use the materials we teach to develop appropriate nutrition and lifestyle plans, as well as holistic mentoring skills to develop a whole-person health promotion plan to restore optimal health. This is the goal and mission of all our Health and Nutrition courses.
We believe it is important to learn the basics of functional and holistic nutrition. We place a strong emphasis on a whole-food plant-based diet and its health implications. We encourage the integration of theoretical and practical information that focuses on the quality, quantity and balanced proportions of whole food nutrients. We clarify how healthy digestion and balanced nutrition affect the hormonal balance and self-healing processes of the body. The aim of our training is to provide a comprehensive knowledge that will enable counsellors and coaches to develop personalized nutritional guidelines, diets, lifestyle programs and life management strategies to best support their clients' health development.
"In my view, a combination of nutritional therapy, movement therapy, stress management, self-awareness and self-improvement training, and naturopathic medicine is a holistic approach to health maintenance or health restoration. My ultimate goal is to bring to people both Western scientific knowledge and Eastern knowledge and experience that will enable them to live a healthy lifestyle and achieve physical and mental balance."
Dr. Suzanna Braeger - Head of Health & Nutrition Department Body & Soul Wellness Academy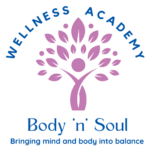 Body 'n' Soul Wellness Academy © 2023. All rights reserved